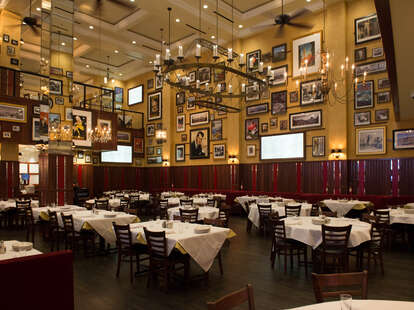 Photo courtesy of Carmine's
Carmine's Italian Restaurant
Family Style Italian Restaurant
Monday
11:00 AM - 10:00 PM
Tuesday
11:00 AM - 10:00 PM
Wednesday
11:00 AM - 10:00 PM
Thursday
11:00 AM - 10:00 PM
Sunday
11:00 AM - 10:00 PM
Friday
11:00 AM - 11:00 PM
Saturday
11:00 AM - 11:00 PM
Carmine's is putting an Italian spin on Christmas Eve with a Feast of Seven Fishes, featuring oversized portions of fried calamari, clams, shrimp cocktail, pasta with clam sauce, mixed seafood pasta, shrimp scampi, and salmon oreganata—designed to feed a group of six to eight people. The restaurant is also serving three special dinners—roast beef with asparagus, potatoes, mushrooms and oreganata-stuffed tomatoes; penne boscaiola with sausage in a tomato cream sauce; and pan-seared sea bass—on both Christmas Eve and Christmas Day.
Cost: Feast of Seven Fishes $350, roast beef tenderloin dinner $175, penne boscaiola $45, and sea bass cioppino $140.
How to book: Make a reservation online.
This Italian restaurant is tailor-made for large parties with overloaded portion sizes that lend well to family-style sharing. Carmine's has an expansive dining room that covers two levels, but if you're booking a large party, request the Piccolo room (up to 30 guests), Rotondo room (84 guests), or the massive Ritrovo Room, which can accommodate 260 seated guests. However, the best spot may be the Terrazza, which has room for 50-60 guests and a private balcony overlooking the Strip.
How to book: Explore private party options online.
Monday
11:00 AM - 10:00 PM
Tuesday
11:00 AM - 10:00 PM
Wednesday
11:00 AM - 10:00 PM
Thursday
11:00 AM - 10:00 PM
Sunday
11:00 AM - 10:00 PM
Friday
11:00 AM - 11:00 PM
Saturday
11:00 AM - 11:00 PM