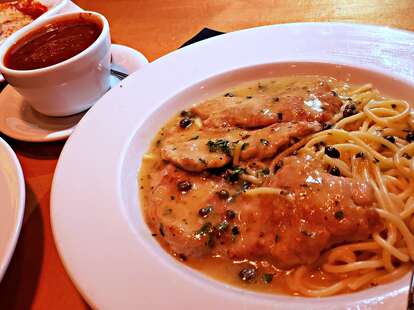 Italian American supper club featuring live standards, video lounge, friendly waitstaff and delicious Italian specialties prepared properly, in the old school way. Offers free limo service to and from your hotel. Las Vegas, the way it used to be.
Monday
12:00 AM - 12:00 AM
Wednesday
12:00 AM - 12:00 AM
Thursday
12:00 AM - 12:00 AM
Friday
12:00 AM - 12:00 AM
Saturday
12:00 AM - 12:00 AM
Sunday
12:00 AM - 12:00 AM
Casa di Amore feels like a throwback to a different era, even if it hasn't been around quite as long as some of the more enduring old-school restaurants in Las Vegas. The place is loaded with charm and character, underneath a ceiling of square tin tiles. The menu is huge—sometimes overwhelming—but as long as your table starts with the stuffed pepper appetizer and orders at least one dish from the baked pasta section (with the lasagna or manicotti stuffed with fluffy ricotta cheese being the most recommended), you're heading in the right direction. The spicy "gypsy sauce" is a closely guarded house recipe, but adds serious heat to any meal. Casa di Amore even manages to make Fernet Branca taste good in a modified Manhattan. Want more cocktails? The restaurant has a tiki bar on the back patio… just because.
How to book: Book a reservation online.
Monday
12:00 AM - 12:00 AM
Wednesday
12:00 AM - 12:00 AM
Thursday
12:00 AM - 12:00 AM
Friday
12:00 AM - 12:00 AM
Saturday
12:00 AM - 12:00 AM
Sunday
12:00 AM - 12:00 AM