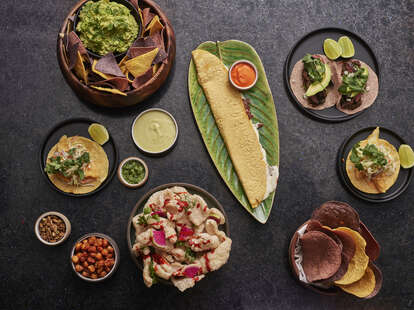 Photo by Bill Milne, courtesy of Casa Playa
Casa Playa presents a fresh take on Mexican fine dining on the Strip. Executive chef Sarah Thompson has put together a menu that encourages sharing and socializing. Flavors can be delicate (a truffle tostada with aged cheddar) or intense (a flavorful steak-like short rib). An emphasis on seafood reflects the restaurant's Riviera Maya theme, ranging from Hokkaido Scallop Ceviche to hearty takes on Dorado, Branzino, and Lobster. Dedication to quality ingredients is further seen in an in-house masa program with blue and yellow heirloom corn. The house Playa Margarita is stiff and tart—not sweet. The Temple of Doom goes down easier, mixing mezcal and pineapple in a tiki glass. The decor includes a Mayan statue, flowers that dangle from the ceiling, and warm amber lighting. No booths. Lots of banquettes and the occasional couch, all of which add a conversational energy to the room.
Casa Playa presents upscale Mexican cuisine in a lounge-like environment with the warm amber glow of an elaborate floral light fixture dominating the space. Executive chef Sarah Thompson has put together an intriguing menu that shows off a coastal Yucatan Peninsula influence, reflected in bright, flavorful seafood dishes like a shareable Surf and Turf (with lobster and Wagyu carne asada), Blue Shrimp Ceviche, or flavorful Grilled Branzino. The margaritas are on the strong side, while the Vitamin Sea cocktail is a sweeter mix of tequila and citrus juices. Save room for desserts like a Tres Leches cake with whipped ganache or a mangonada prepared with a touch of mezcal.
How to order: Call 702-770-5340 or visit Seven Rooms to make a dinner reservation.