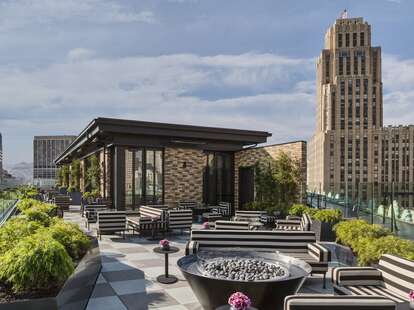 Courtesy of San Francisco Proper Hotel
Courtesy of San Francisco Proper Hotel
Tuesday
5:00 PM - 11:00 PM
Wednesday
5:00 PM - 11:00 PM
Thursday
5:00 PM - 11:00 PM
Saturday
5:00 PM - 11:00 PM
The only thing that feels truly "San Francisco" about Charmaine's is the stunning city views. And we say that in a good way. Because though we love our local drinking scene, it's hard to find a bar that's unapologetically decadent, stylish, and sexy. And Charmaine's, which is perched 120 feet in the sky atop The Proper Hotel, is all of that. The quirky and colorful interior bar is absolutely charming, but the Euro-meets-LA outdoor lounge with a wraparound terrace is why you're there. The comfortable seating and copious amounts of fire pits create a "settle in and stay for a while," vibe which is easy to do once you start sipping the tasty cocktails from the guys behind Bon Vivants and Trick Dog. Just beware: Charmaine's is a hotel bar, and with a hotel bar comes hotel bar prices. Luckily, the sticker shock is worth it.
How to enjoy: Reservations are available through OpenTable.
If you're looking to infuse a little sex appeal into your date, book a table at this outdoor cocktail lounge perched atop The Proper Hotel. The vibe is a little LA-meets-Europe, but with San Francisco views and weather. Don't fret about the latter. Charmaine's has ample cozy fire pits where you can kick back in the comfy lounge chairs with a fancy cocktail and elevated snacks, such as pork belly skewers, pretzel rolls with pimento cheese dip, and charcuterie and cheese boards.
How to book: Reserve a table online.
Tuesday
5:00 PM - 11:00 PM
Wednesday
5:00 PM - 11:00 PM
Thursday
5:00 PM - 11:00 PM
Saturday
5:00 PM - 11:00 PM