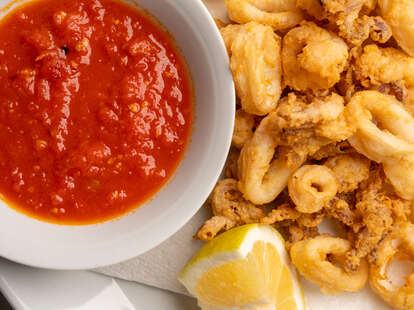 Photo courtesy of Chef Roma's Kitchen
Photo courtesy of Chef Roma's Kitchen
Piero Broglia was already looking to sell his restaurant, Chef Piero's Roma Kitchen, when he passed away last year. Ricardo Romo, who just happens to have a similar name, bought the restaurant in December and is now in complete control, operating the intimate space as Chef Roma's Kitchen. If you can keep all that straight, just know you'll still get some of Henderson's best, most inspired Italian cuisine. Romo draws on his history at Strip destinations like Mastro's Ocean Club and STK, mixing perfectly pan-seared steaks with vibrant classics like chicken marsala and a hearty lasagna large enough for two to share. You absolutely get your money's worth here. The Pomodoro and bolognese sauces are so good that the restaurant sells them by the quart to take home. Romo is currently redesigning the restaurant, shifting its image from a somewhat casual Italian bistro to a more formal, modern eatery. Expect new chandeliers, black ceiling tiles, and curtains to block off the kitchen soon. Cocktails are now available too. Previously, the place was only licensed for beer and wine.
Piero Broglia was born in Rome, but has been a Las Vegas favorite for decades, earning praise from Frank Sinatra and Steve Wynn while running kitchens at iconic restaurants like Pasta Mia and Piero's (which still bears his name, if not his presence). He's now running his own small operation in Henderson with the same recipes that helped define Italian dining on the Strip. Broglia tends to favor pomodoro in his pasta dishes, although he'll whip out a spicy marinara for the rigatoni puttanesca and even a few fish entrees. Ask about the semoi-regular rack of lamb special, served Roman-style with garlic, red wine vinegar, and anchovies.
How to book: Call 702-331-6300 to inquire about reservations or pickup orders.