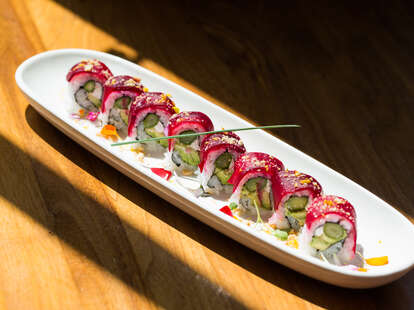 Chikyu
Vegetarian / Vegan Restaurant
Chikyu proves that a menu devoted to plant-based sushi can hold appeal to not only vegans, but meat-eaters as well. The food is expertly prepared by chef John Le who makes fruits and vegetables delicious with spices and inventive marinations. The specialty rolls, named after Nevada wildflowers, come with photogenic presentations that even look good in a takeaway box. The Stream Orchid, for example, is a robust combination of grilled mushroom, daikon radish, and avocado, topped with shredded tofu, tomato, bell pepper, and truffle soy. Even the nigiri is impressive, especially a slice of green mango pickled with clove and other spices. If you want to skip the alcohol but not the buzz, try one of the "euphorics" on the drink menu, made with nootropics for an eye-opening dose of mood enhancement.
How to book: No reservations, but you can call 702-777-3787 for pickup orders.
Chikyū is easily the most refined plant-based Japanese restaurant in Las Vegas, earning a fanbase for their beautifully presented and thoughtfully prepared vegan sushi. The concept is a partnership between chef John Le, one of the original sushi chefs at San Francisco's celebrated vegan sushi restaurant Shizen, and Shizen co-founder and ocean conservationist Casson Trenor. Theirs is a refined approach to vegan sushi, utilizing classic Japanese culinary techniques to highlight and honor the plant-based ingredients in much the same way that traditional sushi honors the flavors and textures of the fresh fish.
How to order: Walk-ins only.