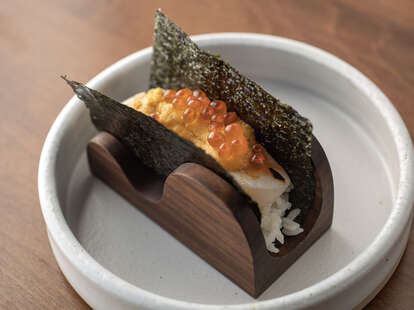 Photo by Darren Samuelson, courtesy of Chisai Sushi Club
The Most Exciting Restaurants in San Francisco Right Now
The gist: Few neighborhood restaurants were as universally loved as ICHI Sushi, which closed permanently in June 2020. Fortunately, local sushi star chef Eric Aplin has taken over the pocket-sized space and reopened it as a new destination for approachable, thoughtful omakase. Chef Aplin, who, in addition to spending time behind the sushi bar at ICHI, has worked at lauded establishments including Akiko's and Robin as opening chef de cuisine, and is bringing a playful, American-Japanese aesthetic to the menu.
The food: Currently, there are three omakase options available, one of which is entirely vegetarian. Dishes include traditional preparations alongside a Dungeness Crab Louie made with little gems and topped with miso-cured egg yolk, a BLTA hand roll, and an udon uni carbonara.
The cost: Omnivorous omakase menus are 13 courses for $80 or 17 courses for $110. The 12-course vegetarian tasting menu is $65.