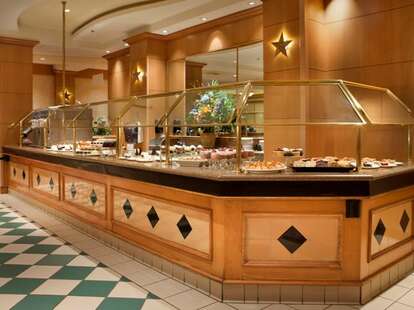 Photo courtesy of Circus Buffet
One of the largest Las Vegas buffets serving all your favorites for breakfast, lunch and dinner including salad bar, carving station, American and International favorites, all-you-can-eat fried shrimp and decadent desserts. Kids under 4 always eat free with a paying adult.
Tuesday
7:00 AM - 10:00 PM
Wednesday
7:00 AM - 10:00 PM
Thursday
7:00 AM - 10:00 PM
Saturday
7:00 AM - 10:00 PM
Simple, efficient, no frills. The Circus Buffet was never fancy to begin with and was recently downsized to clear more space for a food court. Most of the food is standard buffet fare (sliced meats, fried chicken, pizza, omelettes, etc.) but is less expensive than other buffets on the Strip with shorter wait times. Currently open for dinner Friday-Sunday and breakfast/brunch Saturday-Sunday, the Circus Buffet is often heavy on high school cafeteria vibes. For a fine-dining experience at Circus Circus, try The Steakhouse, a long-running favorite among regulars.
Cost: Adults are $27.99 for dinner and $24.99 for breakfast/brunch. Kids are $17.99 (Friday) and $18.99 (Saturday-Sunday) for dinner and $18.99 for breakfast/brunch.
How to book: Just walk in. No reservations.
Tuesday
7:00 AM - 10:00 PM
Wednesday
7:00 AM - 10:00 PM
Thursday
7:00 AM - 10:00 PM
Saturday
7:00 AM - 10:00 PM