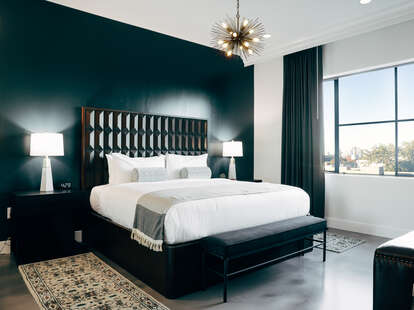 Colton House Hotel

| Photo by Jeremy Sexton
Colton House Hotel

| Photo by Jeremy Sexton
One for the revelers who stay for both weekends. Colton House offers home-away-from-home comforts like kitchen and washer/dryer (things can get terribly sweaty at ACL!). This relatively recent addition to South Congress is a boutique accented stay that features only suites, so you'll have a ton of space to relax and unwind. Perhaps so much so you host the pre-drinking. If not, there's also a downstairs patio and bar, where a glorious green space sits with a heated outdoor swimming pool adjacent to coffee and cocktail bar Simona's. Colton House will be running ACL promotions this year, including 50% off one night when booking four, and deals with free parking.
Rooms start at around $199
Opened: January 2021
The plush all-suite accommodations at this innovative stay blur the line between upmarket residence and boutique hotel. Expect creature comforts like kitchen and laundry access alongside sexy hotel perks. There are a total of 80 suites ranging from 460 to 1,170 square feet in size and the snazzy onsite fitness center houses Peloton bikes and a yoga studio.
Cost: Rooms start at ~$230 per night.