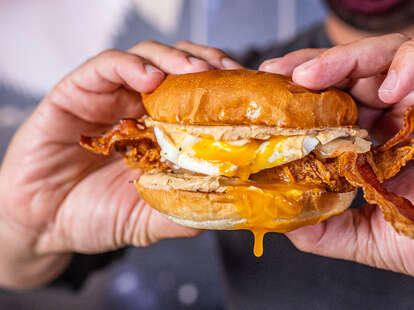 Concepted and founded by Michael Rosen and Top Chef's Richard Blais in 2015, The Crack Shack crafts both the chicken and the egg for you to enjoy with reckless abandon and the assurance that you're savoring every bite of locally raised, free-living chickens without a care or antibiotic in them--j...
Tuesday
10:00 AM - 9:00 PM
Wednesday
10:00 AM - 9:00 PM
Thursday
10:00 AM - 9:00 PM
Saturday
10:00 AM - 9:30 PM
This fried chicken sandwich concept launched in 2015, when owner Michael Rosen turned the abandoned shack next to his fine-dining sensation Juniper & Ivy into something more accessible, but no less delicious. Although the outdoor venue has picnic-style seating, cornhole, and a decidedly casual vibe, the emphasis is on local, thoughtfully sourced, and, whenever possible, organic ingredients: Jidori Farms in Los Angeles provides non-GMO, humanely raised birds that have lived on an all-natural feed diet; Gonestraw Farms in Riverside supplies farm-fresh eggs from free-range chickens; and micro-artisan bakeries are responsible for making Crack Shack's bread (sans preservatives). Even the sauces are made from scratch daily and rotate based on seasonal produce. Although you can't go wrong with a tray of wings and drumsticks fried to an earth-shattering crunch, the menu also has hearty sandwiches, bowls, and sides—like Schmaltz Fries or Mini Biscuits smeared with miso-maple butter—all of which are exceptionally delicious.
How to book: Walk-ins only. Order pickup or delivery via their website.
Tuesday
10:00 AM - 9:00 PM
Wednesday
10:00 AM - 9:00 PM
Thursday
10:00 AM - 9:00 PM
Saturday
10:00 AM - 9:30 PM