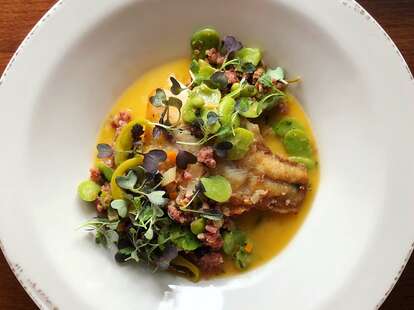 Photo courtesy of Dear Margaret
The gist: Expect to be charmed at this Lakeview newcomer, thanks to warm, welcoming décor and comforting French-Canadian fare from chef Ryan Brosseau. He draws on his Ontario upbringing to inform a menu that is equally rooted in Midwestern sensibilities, made capable through the kitchen team's close relations with local farmers and purveyors. It goes a long way in the hands of Brosseau, whose previous Chicago posts range from Perennial Virant to Table, Donkey, and Stick.
The food: Prepare for bold, earthy flavors beginning with apps like the Salt-Roasted Beet Salad (with celery root purée, caraway, and smoked trout roe) or Bone Marrow (with pickled smoked beef tongue, sweet farm onion, and toast) and moving onto mains like the Stuffed Saddle of Lamb (with prunes and pommes purée) or the Aged Duck Breast (with radicchio and smoked tea-honey glaze).
How to book: Reserve via Tock.