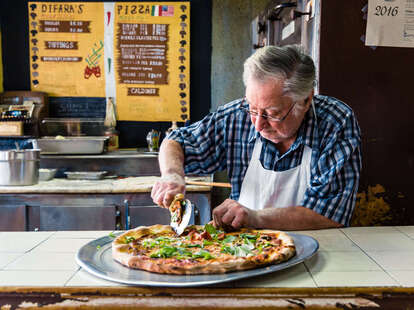 Di Fara Pizza has been voted #1 Pizzeria in NYC for 8 years running. Try our mouthwatering pizza and see for yourself why we are the best.
Tuesday
12:00 PM - 9:00 PM
Wednesday
12:00 PM - 9:00 PM
Thursday
12:00 PM - 9:00 PM
Saturday
12:00 PM - 9:00 PM
Since 1965, when it comes to classic NYC pizza, Di Fara has been considered the gold standard. This legendary shop from Domenico "Dom" DeMarco (who recently passed away at the age of 85) specializes in round and square pies topped with high quality ingredients from Italy. And while DeMarco tweaked his recipes over the years and allowed much of his pizza-making to be dictated by feel rather than a strict recipe, the joint has continued to maintain the reputation as serving one of the city's best slices.
Perhaps the ultimate pilgrimage for anyone interested in NYC pizza lore, this old-school shop dates back to 1965, when Italian immigrant Domenico DeMarco ("Dom") opened what would become one of Brooklyn's most legendary pizza joints. A taste of Di Fara's pizza is served by the basic slice, but you'll want to pile on imported Italian ingredients like soppressata, prosciutto, and broccoli rabe. The shop's lauded pizzaiolo recently passed away after decades at the helm of this iconic shop, but the top-notch pizza that comes thanks to his excellent recipes helps to carry on his legacy.
Tuesday
12:00 PM - 9:00 PM
Wednesday
12:00 PM - 9:00 PM
Thursday
12:00 PM - 9:00 PM
Saturday
12:00 PM - 9:00 PM