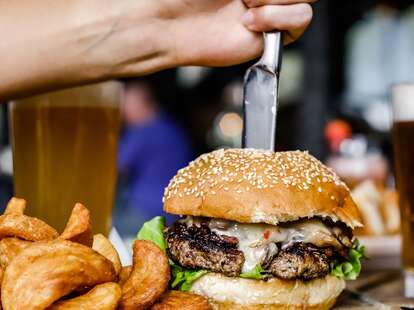 Uptown Dallas's aptly named the Happiest Hour is sure to become your post-work go to. The outdoor bar and lounge scores with killer skyline views, an extensive bevy of fruity craft cocktails, and spacious digs (at over 12,00 square feet, it's the largest patio in all of Dallas, so bring your crew). Crudité-like small plates are good if you're in the mood for a snack; the signature two pound braised "Dino" beef rib is a solid choice to share.
Monday
11:30 AM - 12:00 AM
Tuesday
11:30 AM - 12:00 AM
Wednesday
11:30 AM - 12:00 AM
Thursday
11:30 AM - 12:00 AM
Sunday
11:30 AM - 12:00 AM
Saturday
11:30 AM - 2:00 AM
Happiest Hour spans 12,000-square-feet of indoor-outdoor space littered with more than 30 TVs. But if you really want to go big this year, they're offering rooftop table packages fit for four to 15 guests. Otherwise, just do what you'd normally do: Share the massive Nacho Tower or five-pound Big Happy Burger, opt for an 88-ounce beer tower, laugh at overpriced commercials, and shout at grown men you've never met. (To be clear, that last one applies strictly to what's happening on screen.) Get your hands on all sorts of special Game Day packages via Eventbrite.
With 12,000-square-feet of indoor-outdoor space at your disposal, feel free to spread out and point your eyes toward the nearest TV. A plethora of screens show all your favorite college and pro games, and when the Cowboys take the field, it's Game Daze time. Score discounted drinks and get your fill of the Dak Burger, a two-hander topped with mushrooms, pepper jack cheese, lettuce, tomato, and bacon-onion jam. To boot, two dollars from each order goes toward Dak Prescott's Faith Fight Finish Foundation.
Monday
11:30 AM - 12:00 AM
Tuesday
11:30 AM - 12:00 AM
Wednesday
11:30 AM - 12:00 AM
Thursday
11:30 AM - 12:00 AM
Sunday
11:30 AM - 12:00 AM
Saturday
11:30 AM - 2:00 AM