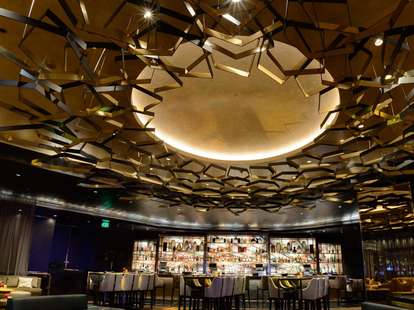 Eschewing the sheen of many overdone bars along the strip, CLIQUE offers a classic, intimate lounging experience where you can hold a conversation without yelling into your friends' ears. While a DJ might be on location to spin lounge sounds, you're not there to dance -- you're there to sip on a cocktail prepared tableside, and indulge in finger foods like street tacos, sliders and salads.
Wednesday
5:00 PM - 2:00 AM
Thursday
5:00 PM - 2:00 AM
Saturday
5:00 PM - 2:00 AM
Clique recently brought back its tableside mixology program, featuring the "If You Know, You Know" (or #IYKYK) menu. Get everyone at your table on the same page and choose a cocktail. A bartender will make the drink for each person in your party, using premium spirits, liqueurs, garnishes, and house-made fruit juices with a tableside cart. A flame may even erupt during the presentation, especially with the appropriately named Firing Squad, which has whiskey, Aperol, honey, lemon juice, and bitters poured over frozen orange ice cubes.
How to book: Take your chances with open seating. Call 702-698-7939 with any questions.
Wednesday
5:00 PM - 2:00 AM
Thursday
5:00 PM - 2:00 AM
Saturday
5:00 PM - 2:00 AM