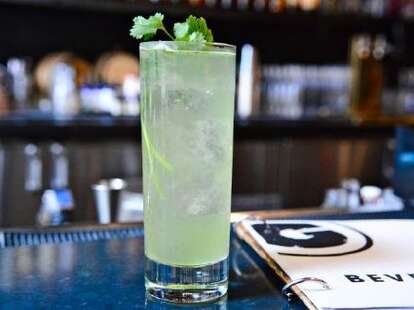 Since 1976, the Sand Dollar has been a Vegas home away from home for rock 'n roll legends-- Mick Jagger, B.B. King, and Prince have all stopped by for craft cocktails on the house. In fact, nearly all of the Sand Dollar's drinks are named for these stars' greatest hits: try a Rolling Stone with rye and bitters, the Born on the Bayou benedictine and bsinthe combo, or a Purple Rain with luxardo cherries.
Wednesday
7:00 PM - 3:00 AM
Thursday
7:00 PM - 3:00 AM
Saturday
7:00 PM - 3:00 AM
The legendary blues bar is known for live music seven days a week, but has gained growing attention in recent years for a top-notch cocktail program. It also outdoes almost everybody else with seasonal pop-ups during Halloween and Christmas. No matter when you visit, cocktails on the regular menu are just $12 each, divided between modified classics and inventive recipes with turmeric, beet juice, Earl Gray tea, and other weird stuff working its way into the mix. A shot-and-a-beer is $11 and the in-house pizza counter serves pies that go far beyond dive bar status. A second version, the Sand Dollar Downtown, is set to open soon at the Plaza hotel.
The Sand Dollar is a storied old blues bar, once solidly a dive but quite a bit cleaned up since new ownership took over nearly a decade ago—it's one of the few gaming bars in Vegas that is blessedly nonsmoking—and added a killer cocktail and craft beer program as well as a kitchen serving excellent artisan pizzas. The crust is soft and chewy, the toppings top-quality. They're just damn tasty pizzas punching far above their weight class by any bar pizza standards. Check out their festive seasonal concepts like "Nightmare on Spring Mountain" (for Halloween) and "Miracle on Spring Mountain" (for ChristmaHanaKwanzika), both several years running now, and come hungry so you can try a "Champagne & Reefer" pie—no, it's not topped with actual reefer or champagne, but housemade red sauce, ricotta, mozzarella, pecorino romano, red onion, cup and char pepperoni, fennel salami, artichoke hearts, black olives, fresh oregano, fresh basil, and extra virgin olive oil. And stick around for the world-class live blues.
How to order: Dine-in or order delivery online through LoCo Las Vegas.
Wednesday
7:00 PM - 3:00 AM
Thursday
7:00 PM - 3:00 AM
Saturday
7:00 PM - 3:00 AM