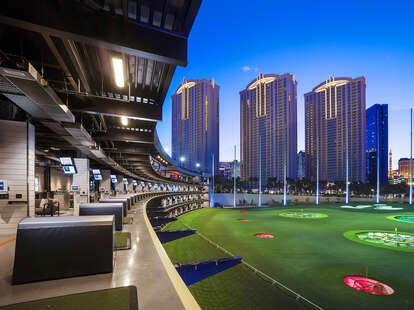 The four stories of climate-controlled driving ranges at Topgolf off the strip come with food and drink service. But don't worry: there are several bars scattered throughout the venue to make sure you can grab a drink as quickly as the golf balls fly from the automated machines. Topgolf is right next to the MGM Grand and each seat comes with a wide open view of the Strip. It's worth a visit to hang out, sit back, and enjoy your drink -- even if you never pick up a club. Oh, and did we mention there's also a pool with a swim-up bar?
Monday
10:00 AM - 12:00 AM
Tuesday
10:00 AM - 12:00 AM
Wednesday
10:00 AM - 12:00 AM
Thursday
10:00 AM - 12:00 AM
Sunday
10:00 AM - 12:00 AM
Saturday
10:00 AM - 1:00 AM
The Topgolf driving range (semi-officially part of the MGM Grand, but outside the resort) has four levels of climate-controlled bays for smashing golf balls into oblivion with the Strip in the background. Order food for your group or skip the bays altogether and hang out at the bars, where the menu offers plenty of bang for the buck. The Jumbo Pretzel Board is almost a meal by itself with a variety of meats, cheeses, fruits, and nuts stuffed inside a soft and chewy pretzel. The trio of Asian-style short rib tacos and cinnamon-sugar donut holes (with three injectable sauces) are reasonably priced as well.
How to order: Book a driving bay or just show up and order from one of the bars.
Monday
10:00 AM - 12:00 AM
Tuesday
10:00 AM - 12:00 AM
Wednesday
10:00 AM - 12:00 AM
Thursday
10:00 AM - 12:00 AM
Sunday
10:00 AM - 12:00 AM
Saturday
10:00 AM - 1:00 AM