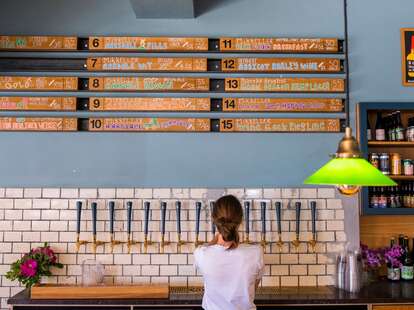 Mikkeller Brewing San Diego
Mikkeller Brewing Company seeks to merge the craft beer traditions of Europe and Southern California under one facility. The San Diego taproom serves close to 20 beers on draft and two rotating casks in a bright blue space with colorful murals adorning the walls. The Beer Geek Breakfast Stout is exceptional, but opt for flights to taste the full spectrum of what Mikkeller has to offer.
Wednesday
1:00 PM - 6:00 PM
Thursday
1:00 PM - 6:00 PM
Saturday
12:00 PM - 7:00 PM
Once known as a "ghost brewery," one that collaborates with other breweries rather than operating its own, Mikkeller opened its first US brewery in the Miramar space formerly occupied by AleSmith, with whom the owners have a long friendship. Combining the best traditions of European and Southern California, expect a spectrum of choices, from boundary-pushing, modern takes, to classic Old World styles, including the award-winning beer that started it all, Beer Geek Breakfast Stout. Check the individual location for pickup and delivery options.
Wednesday
1:00 PM - 6:00 PM
Thursday
1:00 PM - 6:00 PM
Saturday
12:00 PM - 7:00 PM