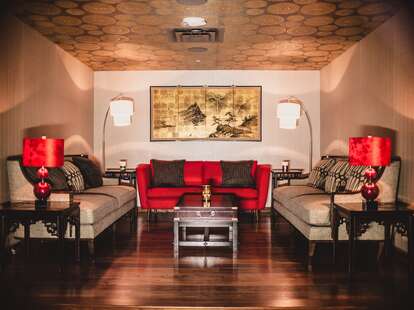 Photo courtesy of Mr. Tipple's Recording Studio
Mr. Tipple's Recording Studio
The spirit of rhythm and blues rules this semi-secret bar and lounge in the Tenderloin. Named after the eponymous imaginary character Mr. Tipple, a smooth talking English A&R man, the bar features live jazz every night alongside inventive craft cocktails.
Tuesday
5:00 PM - 11:30 PM
Wednesday
5:00 PM - 11:30 PM
Thursday
5:00 PM - 11:30 PM
Saturday
5:00 PM - 1:00 AM
The perfect first date spot, Mr. Tipple's has a moody, dimly-lit speakeasy vibe, plus fantastic cocktails and a small menu of dim sum and dumplings. Also: live jazz for toe-tapping, merriment-making, and quiet conversation (or an excuse to be silent for a minute or two to reset floundering discussions.)
How to book: online.
Tuesday
5:00 PM - 11:30 PM
Wednesday
5:00 PM - 11:30 PM
Thursday
5:00 PM - 11:30 PM
Saturday
5:00 PM - 1:00 AM