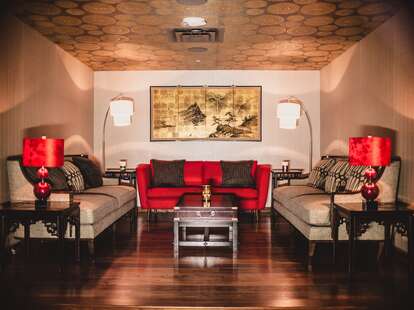 Photo courtesy of Mr. Tipple's Recording Studio
Mr. Tipple's Recording Studio
The spirit of rhythm and blues rules this semi-secret bar and lounge in the Tenderloin. Named after the eponymous imaginary character Mr. Tipple, a smooth talking English A&R man, the bar features live jazz every night alongside inventive craft cocktails.
Tuesday
5:00 PM - 11:30 PM
Wednesday
5:00 PM - 11:30 PM
Thursday
5:00 PM - 11:30 PM
Saturday
5:00 PM - 1:00 AM
The perfect first date spot, Mr. Tipple's has a moody, dimly-lit speakeasy vibe, plus fantastic cocktails and a small menu of dim sum and dumplings. Also: live jazz for toe-tapping, merriment-making, and quiet conversation (or an excuse to be silent for a minute or two to reset floundering discussions.)
How to book: online.
For a group that enjoys live music, excellent cocktails, and dim sum, head to the Opium Den at Mr. Tipple's. The living room-esque annex off of the main room holds between 6 to 18 people and still allows for the live jazz to be appreciated, just away from the couples on dates. This isn't a sit-down dinner situation, but rather a low-key gathering on comfy sofas and chairs perfect for sipping and snacking. And while live music isn't ideal for in-depth conversations, it is ideal for chilling out, and you can always chat during set breaks.
How to reserve: Make a reservation online or fill out the online form for groups larger than 12.
Tuesday
5:00 PM - 11:30 PM
Wednesday
5:00 PM - 11:30 PM
Thursday
5:00 PM - 11:30 PM
Saturday
5:00 PM - 1:00 AM