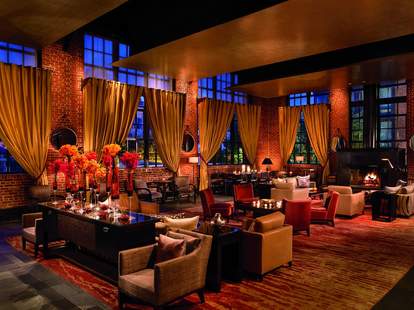 Courtesy of the Ritz-Carlton Georgetown
The Ritz-Carlton Georgetown, Washington, D.C.
3100 South Street, N.W.
Washington, 20007
The Ritz-Carlton Georgetown brings the aesthetic concept of "industrial-chic" to soaring new heights as a luxury boutique hotel that incorporates a brick smokestack in its architecture. Through the entryway, you can unwind fireside in The Living Room, the hotel's cozy, sumptuous bar whose lush velvet banquettes face a dramatic 130-foot wood-burning fireplace. Cocktails are inflected with 1920s elements and flavors: the Political Gambler blends spice-infused DC Green Hat gin with lime juice, maple syrup, and soda water, while the Peruvian Hemingway is an elixir of pineapple-infused pisco, lime juice, simple syrup, and Luxardo cherry. A second dining option is found at Degrees, which plates regional fare like Southern Angry Mussels, with fried garlic, jalapeno, bacon, smoked paprika, and white wine, or the spicy Southern broccoli and sausage skillet with pecorino cheese.