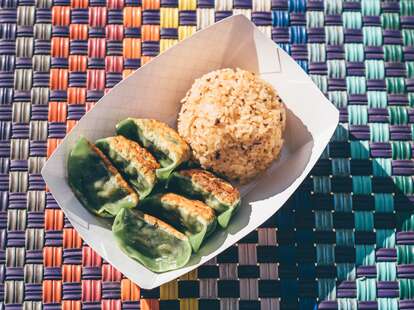 Where to Eat in Houston Right Now
The gist: Since 2016, this mouth-watering gem has been polishing their Cantonese-style dishes with local ingredients and family tradition. Self-trained gourmand Elaine Won originally began Dumpling Haus as a pop-up with her daughters Amiley and Ashley, bouncing from flourishing farmers markets to holy grail watering holes around the city. It wasn't long before customers realized that weekend-only servings of their plump dumplings and utterly delectable noodle soups weren't enough, and this family-run eatery scored a brick and mortar spot in the ever-growing Sawyer Yards.
The food: Beloved (obviously) for their pillowy dumplings, guests can also score additions like steamy Braised Pork Belly and marinated BBQ chicken-laden Rice Bowls tossed with chili oil, and veggies, and aromatic protein-stuffed Wonton Soup peppered with green onions. Dip a spoon into the "haus favorite" Vegan Fried Rice stocked with oyster mushrooms, carrots and peas galore—or indulge in all three, it's that good.
The cost: Dumplings $8, noodle soups $10 - $13, signature bowls $9 - $10, fried rice $10 - $12, soft drinks $1 - $3.50, sides $.50 - $4.50.