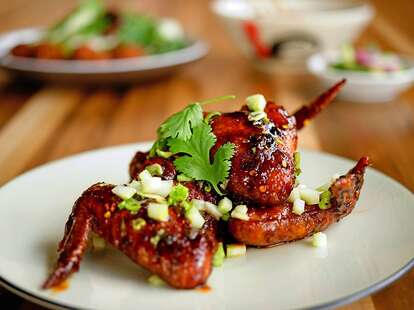 Where to Eat in Austin Right Now
The gist: This food truck-slash-casual sit-down restaurant serves Austin's most authentic Thai cuisine. Bangkok-born chef Thai Changthong has racked up rave reviews and awards nationwide, and rightly so—his work more than lives up to the accolades.
The food: Staples like pad Thai and Thai green curry are cooked up to perfection, but it's the rarities that will blow your mind. You may not have heard of khao moo dang (it's not typically featured on western menus), but trust, it's the clear winner, showcasing the juiciest homemade Thai BBQ pork, soaked in rich and brothy gravy and topped with Chinese sausage and boiled egg.
The cost: Appetizers $7 - $14, mains $13 - $20, wine by the glass $12 - $14, cocktails $10 - $13.

10 Stellar Places for Gameday Eats (& Drinks) Near Austin FC's Q2 Stadium
This colorful food truck is one of the most trusted for authentic Thai cuisine. Bangkok native, Thai Changthong, brings self-proclaimed "O.G. Thai street food" to Austin, racking up rave reviews (both from local media and local eaters) and multiple awards in the process. Alongside pad Thai and green curry, the team whip up amazing dishes that you don't typically find in western Thai restaurants, such as Khao Moo Dang, a homemade BBQ pork full of juicy meat slices in gravy with Chinese sausage, boiled egg, and jasmine rice.