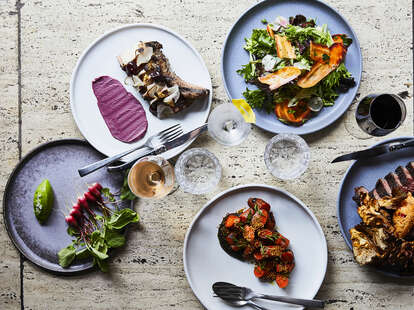 Photo courtesy of Kimpton Hotel Van Zandt
Geraldine's -- located on the fourth floor of the swanky Hotel Van Zandt -- offers up elevated American cuisine, craft cocktails, and live music in a chic, massive space. The menu features dishes inflected by local Austin flavors, like fermented chile hush puppies with pickled fennel ranch, cornmeal-fried oyster mushrooms, and local goat tartare. Head to the rooftop bar and enjoy unparalleled views of Lady Bird Lake as you sip cocktails poolside.
Wednesday
5:30 PM - 9:30 PM
Thursday
5:30 PM - 9:30 PM
Saturday
10:00 AM - 11:30 PM
Geraldine's is classic Austin, with live music, a buzzing bar, and delicious Southern recipes making their way to the table. It is a sharing situation, with plates that get bigger the further you go down the tightly curated menu. We suggest Crispy Pig Ears and the Hamachi Crudo to start, then onto biggies like the Half Roasted Chicken (prepare to fight over the crispy potatoes) and Smoked Short Rib alongside small veg dishes like the sweet fish sauce-laden Brussel Sprouts or Smoked Carrots. Come down on a Sunday for Geraldine's Record Society featuring a live vinyl experience and wine specials.
Wednesday
5:30 PM - 9:30 PM
Thursday
5:30 PM - 9:30 PM
Saturday
10:00 AM - 11:30 PM