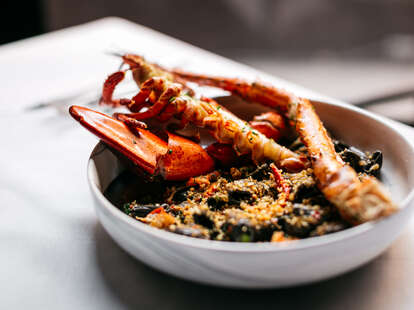 Dakota's is, and has been, a dining icon in the Arts District for decades. It's a subterranean steakhouse -- the only underground patio in Dallas. Dining at Dakota's is an experience; the menu is in line with any other white tablecloth steakhouse, but its unique location and New Orleans-style ambiance make it a stand-out. And luckily for us, Dakota's believes that no meal is complete without wine -- their extensive cellar is all the proof we need.
Tuesday
11:00 AM - 2:30 PM
Wednesday
11:00 AM - 2:30 PM
Thursday
11:00 AM - 2:30 PM
Tuesday
4:00 PM - 10:00 PM
Wednesday
4:00 PM - 10:00 PM
Thursday
4:00 PM - 10:00 PM
Saturday
5:00 PM - 10:30 PM
After shuttering (seemingly) for good during the height of the pandemic in 2020, it came as a welcome surprise when Meredith McEneny decided to resurrect the famed underground steakhouse. Cuddle up at a nook table and slowly comb through a menu of exquisite seafood, chops, and prime cuts along with a nice bottle of wine. (Two, if you arrived via ride-share service.)
Dakota's closed in 2020 after nearly four decades in business, but now it's back, complete with a new owner, new chef, and a host of updates, from dining room and courtyard patio renovations to major menu overhauls. The subterranean space, accessed via a glass elevator, is the perfect spot for a meat-focused date night. Choose from a variety of cuts, including classic New York strips and ribeyes alongside A5 Japanese Wagyu and a hefty Porterhouse for Two. Throw in a Whole Maine Lobster if you're feeling fancy… or simply ravenous.
Tuesday
11:00 AM - 2:30 PM
Wednesday
11:00 AM - 2:30 PM
Thursday
11:00 AM - 2:30 PM
Tuesday
4:00 PM - 10:00 PM
Wednesday
4:00 PM - 10:00 PM
Thursday
4:00 PM - 10:00 PM
Saturday
5:00 PM - 10:30 PM