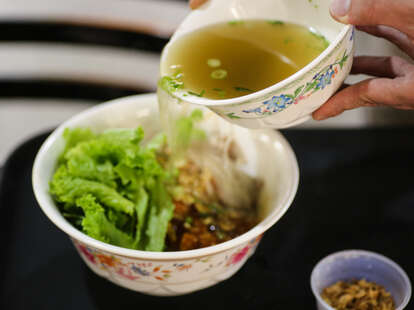 Quan Yin Vegetarian Restaurant
Vegetarian / Vegan Restaurant
You're in for some seriously tasty vegetarian eats from this casual strip mall Chinese takeout spot. Hitting up Chinatown is well worth the scrumptious, family-style dishes on Quan Yin's menu, like eggless egg rolls and vegetable pho. And when it comes to meat substitutes, you'll be more than satisfied with your options: the team here is cooking up faux chicken, beef, and fish that deliciously reinvent popular Asian dishes.
Vegetarian and vegan Houstonians know this family-style Vietnamese spot is worth the trip to Asiatown. Their Eggless Egg Rolls and Vegetable Pho are highly revered, and those looking for meat substitutes will be more than satisfied with heaps of faux chicken, beef, and fish mixed with all things sweet, spicy, and hot.
How to book: Stop by for first come, first served seating.