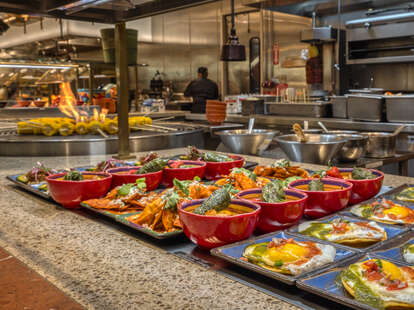 Photo by Lewis Phan, courtesy of Bacchanal Buffet
Tuesday
3:30 PM - 10:00 PM
Wednesday
3:30 PM - 10:00 PM
Thursday
3:30 PM - 10:00 PM
Saturday
9:00 AM - 10:00 PM
Generally, the standard by which all Las Vegas buffets are judged, Bacchanal Buffet took advantage of the downtime during the early days of the pandemic and reopened in 2021 with an all-new look and selection. The space underwent a multimillion-dollar renovation and added dozens of new dishes, served from nine open kitchens. It's easy to see a greater array of Asian cuisine, such as black pepper beef or chicken tikka masala, and plant-based options. Try the spring veggies and lentil ragout currently available. A wood-fired grill serves up a nice prime rib and a few surprises, including a lamb T-bone with artichoke barigoule. The saffron butter braised lobster claws are nearly worth the price of admission alone. In late May, brunch expands to five days a week, Thursday through Monday, with crab served Friday through Sunday. That gives you additional opportunities to try the short rib benedict, seafood gumbo, and "Hog Heaven Waffler," a waffle slider with smoked pork belly, bacon, sausage, egg, cheese, and blueberry syrup.
Cost: Dinner is $74.99, brunch is $54.99.
How to order: Making a reservation is highly recommended and should be done well in advance if you're seeking a particular time slot.
You may have relatives in town with one thing on their mind: crossing a buffet off their Las Vegas bucket list. We understand the appeal. Buffets are great choices for holiday meals with unlimited portions of traditional dishes. So give the extravagant Bacchanal Buffet at Caesars Palace a shot. It looks brand new after a 2021 remodel and has a semi-secluded private dining room for large parties. But the place is so big, you'll be able to sit almost anywhere by making a reservation in advance.
How to book: Reservations are available on OpenTable. Call 866-733-5827 to book groups of 14 or more.
Tuesday
3:30 PM - 10:00 PM
Wednesday
3:30 PM - 10:00 PM
Thursday
3:30 PM - 10:00 PM
Saturday
9:00 AM - 10:00 PM