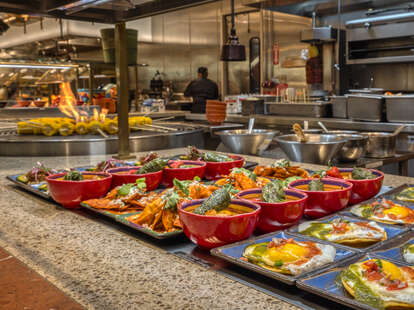 Photo by Lewis Phan, courtesy of Bacchanal Buffet
Tuesday
7:30 AM - 10:00 PM
Wednesday
7:30 AM - 10:00 PM
Thursday
7:30 AM - 10:00 PM
Saturday
7:30 AM - 10:00 PM
You may have relatives in town with one thing on their mind: crossing a buffet off their Las Vegas bucket list. We understand the appeal. Buffets are great choices for holiday meals with unlimited portions of traditional dishes. So give the extravagant Bacchanal Buffet at Caesars Palace a shot. It looks brand new after a 2021 remodel and has a semi-secluded private dining room for large parties. But the place is so big, you'll be able to sit almost anywhere by making a reservation in advance.
How to book: Reservations are available on OpenTable. Call 866-733-5827 to book groups of 14 or more.
Generally the standard by which all Las Vegas buffets are judged, Bacchanal Buffet took advantage of the downtime during the early days of the pandemic and reopened this past summer with an all-new look and selection. The space underwent a multimillion-dollar renovation and added more than 30 dishes with food served from nine open kitchens. There is now a more diverse array of Asian cuisine, expanded plant-based options, a fire-roasting grill for prime rib, and dim sum-style carts handing out fun items like a PB&J foie gras and Japanese Wagyu hotdogs. The buffet is open daily for dinner service with brunch (9 am-3 pm) Friday-Sunday with a fun pancake and waffle bar.
Cost: Dinner is $74.99, brunch is $54.99.
How to order: Guests can now make reservations online for the first time; highly recommended since admission lines have been especially long since reopening.
Tuesday
7:30 AM - 10:00 PM
Wednesday
7:30 AM - 10:00 PM
Thursday
7:30 AM - 10:00 PM
Saturday
7:30 AM - 10:00 PM