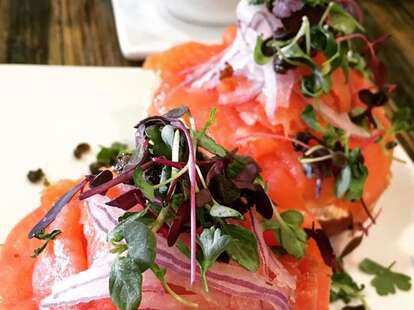 This Vegas proximate organic breakfast and lunch spot specializes in healthy, hearty fare. The smoked salmon sandwich on a toasted pretzel bun hits all the spots; sweet, salty, savory. Follow up at their bakery for tasty housemade goodies like croissants and bear claws.
Wednesday
7:30 AM - 3:00 PM
Thursday
7:30 AM - 3:00 PM
Saturday
7:00 AM - 3:00 PM
This small, family-owned operation serves breakfast and lunch (and yes, $18 bottomless mimosas) all week long, but mixes things up a bit for the weekend brunch, which is always evolving with the availability of seasonal ingredients. The dishes by chef and owner Jaret Blinn tend to be on the adventurous side, whether it's a Chile Relleno Breakfast Burrito, Fried Avocado Tacos, or a Korean-style Fried Chicken Sandwich on a ube bun. The attention-to-detail carries over to the pastry department where carb-loading has never been more satisfying.
How to order: Order online or call 702-728-5828 to check on the latest wait time.
Wednesday
7:30 AM - 3:00 PM
Thursday
7:30 AM - 3:00 PM
Saturday
7:00 AM - 3:00 PM