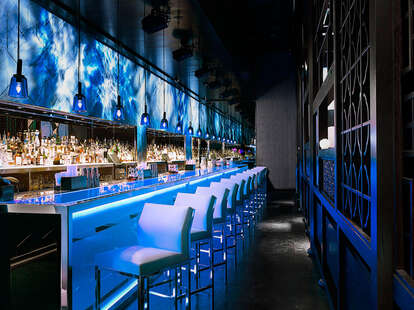 Hakkasan Restaurant
Hakkasan Restaurant
The stateside outpost of the London original, Hakkasan is a high-end Cantonese eatery from the mind of Michelin-starred Chef Ho Chee Boon. The Vegas iteration is comprised of a two story dining area <em>and</em> nightclub within the MGM Grand Hotel & Casino, satisfying VIPs and high-rollers who want to go from indulging in a five-course dim sum feast to hanging out front stage at a Tiesto show, all under one roof.
Tuesday
5:00 PM - 11:00 PM
Wednesday
5:00 PM - 11:00 PM
Thursday
5:00 PM - 12:00 AM
Saturday
5:00 PM - 12:00 AM
Hakkasan Restaurant is a stylish, secluded destination with high-end Cantonese cuisine. The dim sum baskets and crispy duck salad are great for couples to share, but feel free to take the meal up a notch with the crispy langoustine in an eye-catching presentation similar to shumai (with the claws as decoration) and a robust Toban chicken clay pot. There are usually a couple of tasting menu options too. The interior of the dining room twists and turns with tall lattice woodwork between tables to add welcome privacy and intimacy to any meal. Don't forget to snap a photo together near the illuminated tunnel-like floral entrance. The restaurant has direct access to neighboring Hakkasan Nightclub and its own dedicated valet, allowing you to not only avoid the congested MGM parking garage but impress your date as someone who knows all the hookups.
How to book: Book a reservation online.
Hakkasan Restaurant has only gotten better recently, thanks to a few renovations carried out while temporarily closed during the pandemic. It's a charming place that continues to be moody and romantic, with dark hallways twisting around intimate dining areas separated by Asian-inspired oak latticing. The restaurant complements its sister venue, Hakkasan Nightclub, but is much more than a pre-game spot, with an indulgent showcase of high-end Cantonese-inspired cuisine, including Iberico pork in sweet and sour sauce or Wok-Fried Spicy Lobster. The dim sum dabbles in classic recipes, but finds even greater success when adding inventive touches. The seafood Har Gau, a favorite of head dim sum chef Waikee Choong, blends prawns and langoustines inside a handmade dough, forming a flavorful dumpling that's steamed and topped with Osetra caviar.
How to book: Make a reservation online.
Tuesday
5:00 PM - 11:00 PM
Wednesday
5:00 PM - 11:00 PM
Thursday
5:00 PM - 12:00 AM
Saturday
5:00 PM - 12:00 AM