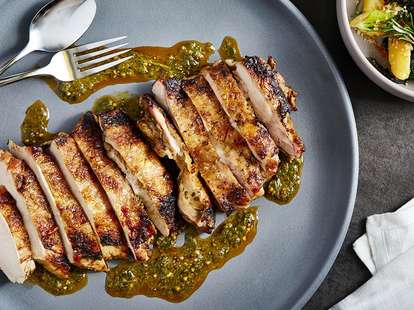 Photo courtesy of Charcoal Venice
Mélisse chef Josiah Citrin is behind this casual Venice eatery that focuses on modern comfort food. Inspired by backyard barbecues, Charcoal grills all its meat over open-flames -- either over charcoal or in the coals. The menu is split between hearty steaks and family-style vegetable dishes, plus a few tartare variations.
Tuesday
6:00 PM - 11:00 PM
Wednesday
6:00 PM - 11:00 PM
Thursday
6:00 PM - 11:00 PM
Saturday
6:00 PM - 12:00 AM
Josiah Citrin's live-fire-focused spot just off the beach will be doing a dine-in tasting menu featuring signature dishes like that killer cabbage baked in embers and special holiday creations including a sunchoke-rosemary soup and smoked turkey with mushroom stuffing, in addition to prime rib slow-roasted in a big green egg (the Mercedes of grills in case you're not up on your BBQ knowledge), plus sides of baked yams, and charred Cipollini onions and Romano beans. You'll wind down with some surprise seasonal pies. Choose from indoor or outdoor seating on a covered astro-turf patio when making your reservation.
Dine-in details: $105 per person; 2:30–7:45pm.
How to book: online.
Tuesday
6:00 PM - 11:00 PM
Wednesday
6:00 PM - 11:00 PM
Thursday
6:00 PM - 11:00 PM
Saturday
6:00 PM - 12:00 AM