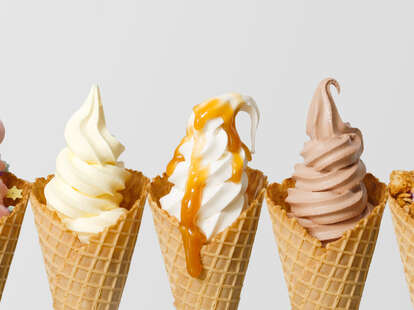 Jennifer Chong/Magpie's Soft Serve
Consider actually screaming for the house-made soft serve ice cream from chef Warren Schwartz (formerly of Patina) and his pastry chef wife, Rose. All of the flavors and toppings are made on-site at Magpies' Silver Lake shop. Instead of chocolate and vanilla swirl, you'll find flavors like malted milk chocolate, strawberry rhubarb, and yuzu honey. Toppings are non-traditional too, and once you have a taste of the spicy candied pecans, run-of-the-mill wet walnuts will never taste the same.
Tuesday
11:00 AM - 9:00 PM
Wednesday
11:00 AM - 9:00 PM
Thursday
11:00 AM - 9:00 PM
Friday
11:00 AM - 10:00 PM
Saturday
11:00 AM - 10:00 PM
Owners Warren and Rose Schwartz are both professional chefs who wanted to create an elevated take on Dairy Queen. Magpies is their brainchild—featuring a made-from-scratch ice cream base, and flavors that remind you of the classics but are infinitely more sophisticated and upscale, like Malted Milk Chocolate and Sweetened Cream. Also on offer? Flavors that evoke the Schwartz's childhoods, including a Corn Almond and Strawberry Banana Shake, as well as house-made toppings like honeycomb candy, butterscotch krispies, and brown sugar oats. If you're lucky, their famous fried ice cream pie will still be available—can't-miss layers of fudge, ice cream, candy honeycomb, whipped cream, and deep-fried corn flakes that meld soft, crunchy, and cold textures all in one heavenly bite.
Tuesday
11:00 AM - 9:00 PM
Wednesday
11:00 AM - 9:00 PM
Thursday
11:00 AM - 9:00 PM
Friday
11:00 AM - 10:00 PM
Saturday
11:00 AM - 10:00 PM