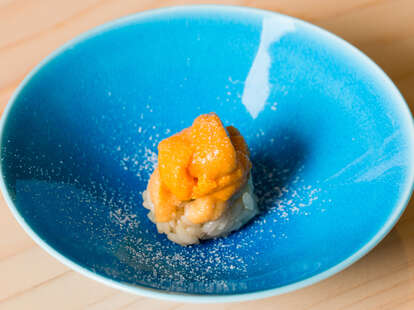 Photo by Cole Saladino for Thrillist
This famed omakase mini-chain in West Hollywood (it also has locations in New York, Tokyo, Honolulu, London, Paris, and Shanghai) serves some of the city's finest raw fish, almost all of which is imported from Japan. Dinner at the 16-seat sushi counter isn't cheap -- we're looking at $300-400 per person -- but it's worth the splurge to experience the work of the masterful team, led by sushi chef Masaki Saito, whose New York outpost earned a Michelin star in 2016.
Tuesday
5:30 PM - 10:00 PM
Wednesday
5:30 PM - 10:00 PM
Thursday
5:30 PM - 10:00 PM
Saturday
5:30 PM - 10:00 PM
At $400 per person, this West Hollywood restaurant's omakase costs a pretty penny. But if you're in the mood to splurge, do it at this high-end, double-Michelin-starred spot, which practices a style of sushi known as Edomae, a tradition dating back 200 years that employs aging and curing techniques to preserve the fish and develop its umami-rich flavors. Those age-old aging methods are still practiced here; fish is simmered in dashi, cured in salt, or aged in kombu sea kelp for hours to days. But beyond the 20+ courses of peak-season seafood, your meal is also a lesson in visual appreciation. The impressive sushi bar is constructed from a single 200-year-old Japanese hinoki cypress tree, and food comes on exquisite Japanese porcelain, all of which is instrumental in understanding the creative expression of this quintessential Japanese meal.
How to book: Reservations are available via Tock.
Tuesday
5:30 PM - 10:00 PM
Wednesday
5:30 PM - 10:00 PM
Thursday
5:30 PM - 10:00 PM
Saturday
5:30 PM - 10:00 PM