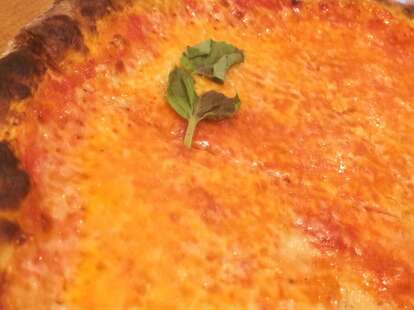 Matt Meltzer/Thrillist 
Matt Meltzer/Thrillist 
Mister O1 Extraordinary Pizza
Self-described as "that famous hidden pizza place," this Italian family owned and operated restaurant is the closest thing to authentic in Miami. Visa O1 uses farm-fresh ingredients to create ultra-thin slices of heaven.
Tuesday
9:00 AM - 11:00 PM
Wednesday
9:00 AM - 11:00 PM
Thursday
9:00 AM - 11:00 PM
Saturday
12:00 PM - 11:00 PM
Sunday
12:00 PM - 11:00 PM
Pizza is a natural option for large group dining, as one of the OG shareable meals. Even though the space is on the smaller side (but the patio has plenty of room), this Florida-based pizza concept Mister O1 embraces the challenge of sharing its lineup of "Extraordinary Pizzas" with everyone in Dallas. So why not get as many seated around one table as possible? Get the star-shaped Star Lucca with spicy salami, ricotta, and basil, and work your way down the list from there.
How to book: Call 214-432-4434 to reserve a table for larger groups.
Tuesday
9:00 AM - 11:00 PM
Wednesday
9:00 AM - 11:00 PM
Thursday
9:00 AM - 11:00 PM
Saturday
12:00 PM - 11:00 PM
Sunday
12:00 PM - 11:00 PM