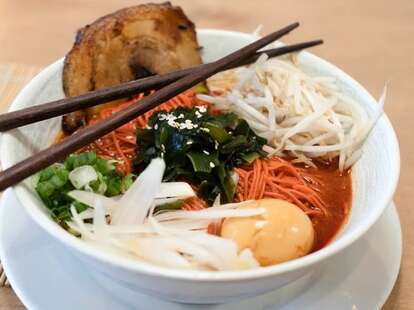 Photo courtesy of Tampopo Ramen
Don't be so quick to write off Tempe as a culinary dead zone. The college town has some of the best eats in Phoenix, including Tampopo Ramen, some of the most slurpable Japanese-style ramen you can find in The Valley. Fill your belly with braised pork belly, steamed buns, homemade Japanese dumplings, grilled octopus, and Japanese fried chicken. For ramen, choose from favorites like a bowl of Tonkotsu with slices of pork, black wood fungus, or go all-out and order the ultra spicy version with Tampopo hot sauce, chili oil, roasted pork, and seaweed.
Tampopo Ramen burst onto the culinary scene in 2015. And today, the hakata ramen shop boasts some of the most slurpable noodles you can find in town. Set your appetite ablaze with the ultra spicy ramen, a fiery take with housemade hot sauce, chili oil, and traditional fixings including a tasty slice of roasted pork. And remember to save your broth, for an extra couple of bucks you can have your noodles re-filled after you've slurped 'em all up. Do save room for the matcha and mochi ice cream, too. You certainly won't leave hungry after a visit to Tampopo.