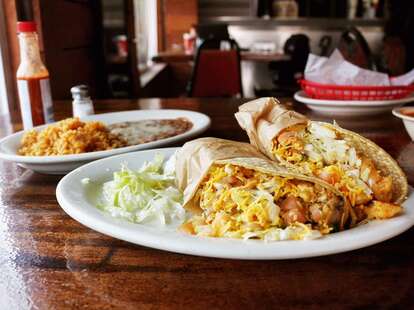 Photo by MATT BALDWIN for THRILLIST
Hipsters flock to this Downtown joint for its organic Mexican fare and trendy ambience (think all-wooden interiors, fliers for local shows posted upon every surface, and skateboards mounted upon the walls). Succulent carne asada tacos and chicken rancheros remain staples, but the biggest influx of Pokez's regulars come for its robust vegetarian options -- grilled tofu à la fajitas and mushroom burritos, and lettuce wrap tacos. Whatever your diet dictates, just make sure to try Pokez's house-made sangria.
Monday
11:00 AM - 10:00 PM
Tuesday
11:00 AM - 10:00 PM
Wednesday
11:00 AM - 10:00 PM
Thursday
11:00 AM - 10:00 PM
Friday
11:00 AM - 10:00 PM
Saturday
10:00 AM - 10:00 PM
Sunday
10:00 AM - 10:00 PM
Pokéz's iconic neon sign has been an E Street mainstay for nearly 30 years, and their vegetarian/vegan menu has been winning awards ever since. There's more than two dozen meat-free selections, including lettuce leaf wrapped, carb-free options bursting with tasty potato, mushroom, tofu, or beans, alone or in any combo you like.
How to book: Seating is available on a first-come basis. Order delivery via UberEats or other delivery apps.
Monday
11:00 AM - 10:00 PM
Tuesday
11:00 AM - 10:00 PM
Wednesday
11:00 AM - 10:00 PM
Thursday
11:00 AM - 10:00 PM
Friday
11:00 AM - 10:00 PM
Saturday
10:00 AM - 10:00 PM
Sunday
10:00 AM - 10:00 PM