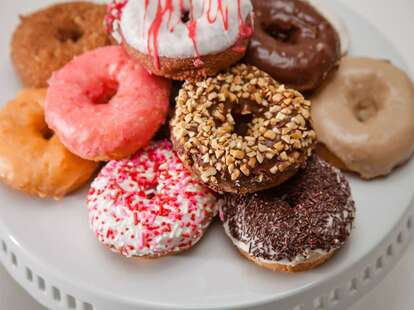 Photo courtesy of V.G. Donut & Bakery
VG Donut & Bakery is a family-owned bakery that's been operating out of its post in Cardiff-by-the-Sea for over 50 years. There are over two dozen types of doughnuts to choose from here, as well as a vast array of cookies, cakes, cupcakes, brownies, and more -- all made in house -- so rest assured, you'll (almost) never have to get the same combination of doughnuts and pastries twice.
Wednesday
5:00 AM - 9:00 PM
Thursday
5:00 AM - 9:00 PM
Saturday
5:00 AM - 9:00 PM
Established in 1969, VG (short for "very good") is a Cardiff institution churning out a variety of pastries, cakes, and breads made in-house daily. Don't leave the shop without grabbing a few freshly fried pastries, including the Shoe donut, a VG speciality that's a cross between a glazed and buttermilk donut, covered in a classic glaze or chocolate.
Wednesday
5:00 AM - 9:00 PM
Thursday
5:00 AM - 9:00 PM
Saturday
5:00 AM - 9:00 PM