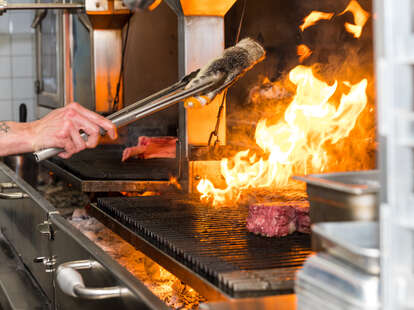 Photo courtesy of Echo & Rig
Echo & Rig Butcher and Steakhouse is located in Tivoli Village in Las Vegas at 440 S. Rampart Blvd. Valet Parking is available.
Tuesday
11:00 AM - 11:00 PM
Wednesday
11:00 AM - 11:00 PM
Thursday
11:00 AM - 11:00 PM
Friday
11:00 AM - 11:00 PM
Saturday
9:00 AM - 11:00 PM
Sam Marvin's Echo & Rig has long been a stable presence at Tivoli Village, an outdoor plaza near Summerlin where restaurants come and go at a rapid pace. Yet the steakhouse stays busy with the allure of delicious food, fair prices, and beef stored and sliced at an on-site butcher shop. After all these years, a second version of the concept is now open in Henderson at The District in Green Valley Ranch. The new location is much more than "Echo & Rig East'' with Marvin putting in a serious effort to give the place an identity of its own. Prices are slightly higher but still a bargain compared to most big Vegas steakhouses. The cuts are organized on the menu in a graph to match the ranch they're sourced from, with a few notes about how the cattle are raised. This is great for food enthusiasts who care whether the filet is grass-fed and grass-finished. You have to give Marvin credit for respecting his audience. A few offbeat cuts–like a tender but flavorful Zabuton–are a welcome change of pace. The new version of Echo & Rig also mixes things up with a dry-aging program, barrel-aged spirits, and an ambitious cocktail menu by Vegas mixologist Tony Abou-Ganim.
Tuesday
11:00 AM - 11:00 PM
Wednesday
11:00 AM - 11:00 PM
Thursday
11:00 AM - 11:00 PM
Friday
11:00 AM - 11:00 PM
Saturday
9:00 AM - 11:00 PM