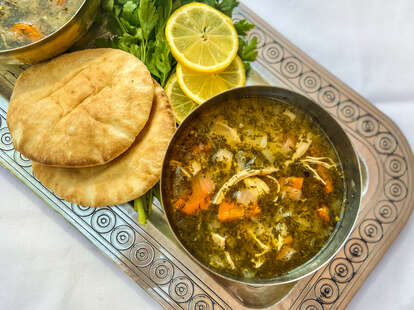 Photo Courtesy of Edy's Grocer
Wednesday
8:00 AM - 4:00 PM
Thursday
8:00 AM - 4:00 PM
Saturday
10:00 AM - 5:00 PM
For an epic spread of Thanksgiving classics with a twist, look no further than Edy's Grocer. The neighborhood shop is currently taking orders for a Middle Eastern-inspired takeout menu. Each dish is available to order individually to cover your potluck assignment or you can let the shop handle the entire spread for $325. With the full Thanksgiving package, you'll head home with Fig Jam "Stuffins", Baked Mac 'n Cheese, Harvest Fatteh, a Zesty Turkey spiced with sumac, and Tahini Apple Pie that will serve six to eight people.
The dish: Chicken noodle soup
This hip, pink and green-tinged Lebanese market specializes in Middle Eastern and Eastern European pantry staples and prepared foods. Catering chef/founder Edy Massih debuted the project this past summer, and offers a lemony take on classic chicken soup inspired by a recipe from his grandmother. His version calls for chicken broth with roasted chicken, carrots, celery, vermicelli noodles, a hit of fresh lemon juice, and a garnish of parsley.
How to order: Outdoor seating is first come, first serve.
Wednesday
8:00 AM - 4:00 PM
Thursday
8:00 AM - 4:00 PM
Saturday
10:00 AM - 5:00 PM