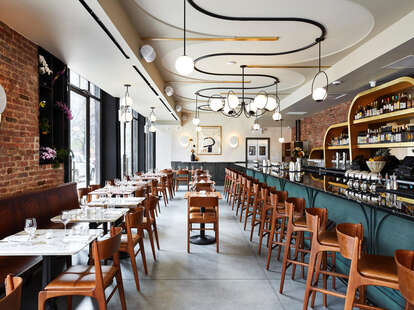 Photo courtesy of Ernesto's
For wine director Pierre Derrien, the world of natural wines is one he is personally tied to, even before his time as sommelier at Clown Bar in Paris. The wine list at Ernesto's, which he notes features 99% natural wines, is influenced by his travels, producers and distributors he has long known, wine tastings from New York to Paris, and his customers' evolving tastes. Current must-trys include a 2018 sparkling red from Loire Valley producer Michael Autran; 2019 orange wine from biodynamic micro-winery Cosmic Vinyaters in Catalonia; and a 2014 red from Asturian producer Dominio del Urogalloa, a small wine estate in northern Spain, where the vineyards are carved into the canyon-esque valley walls. Executive Chef and Partner Ryan Bartlow (whose culinary pedigree includes Alinea, Frenchette, and Michelin-starred Akelarre in San Sebastián) leads the modern taverna, with a distinctive menu dedicated to the cuisine of Spain's Basque region.
How to order: Reservations available via Resy.