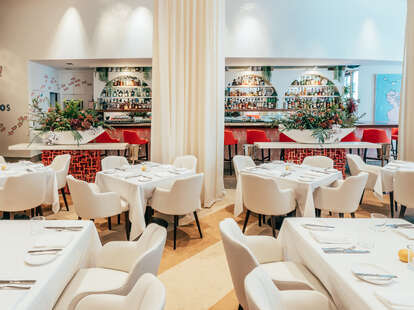 Photo courtesy of MINA Group
Estiatorio Ornos, a Michael Mina Restaurant
Transport yourself to the Greek Isles for an evening of warm hospitality, Mediterranean vibes, and flavorful seafood dishes at this Michael Mina spot that is one of very few reasons to actually head to the Financial District these days. You'll find all kinds of delicious seafood on the shared plates menu, including marinated big-eye tuna, sea urchin, hamachi, grilled octopus, smelts, and an oh-so-fancy caviar service, as well as fish that's flown in daily and prepared by the chef to best showcase its "unique qualities and characteristics." Even if you know exactly what you want, ask to speak to SF's only Fish Sommelier, who operates a roving cart showcasing each of the dishes to your table and explaining them to you in the most delightful manner.
How to book: Reserve your table on the Estiatorio Ornos website.
If you can't run away with your date to the Greek Isles for the weekend, a visit to this new-ish Michael Mina restaurant is the next best thing. A beachy Mediterranean ambiance bathed in stark whites, flowing curtains, and large chandeliers beneath high ceilings is paired with truly delicious classic Greek and seafood-focused shared plates (some of which can be selected with the help of a fish sommelier) and friendly, but attentive service that is all very much fine dining no matter how playful the decor. There is also a tasting menu, but for your first visit or two, it's more fun to explore the menu with the help of the server.
How to book: Reserve a table online.