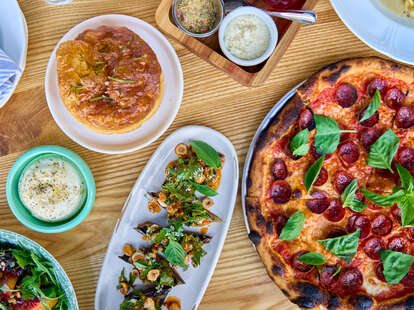 Etta

| Photo by Ryan Tanaka
Etta

| Photo by Ryan Tanaka
Tuesday
5:00 PM - 10:00 PM
Wednesday
5:00 PM - 10:00 PM
Thursday
5:00 PM - 10:00 PM
Saturday
11:00 AM - 2:00 PM
Saturday
5:00 PM - 10:00 PM
Situated in a boutique hotel called The Shay, Etta is a celebrated Chicago transplant (and its first outpost outside of the Windy City). The restaurant group was eager to break into the Los Angeles market and capitalize on California's abundant produce and fresh ingredients, all of which are on full display at this Culver City hotspot. A frequently updated menu stars seasonal salads, wood-fired pizzas, and made-from-scratch pastas—like Alla Vodka, a spicy, silky-smooth sauce that clings to the striped ridges of shell-shaped lumache pasta. One of the most impressive items is a 40-ounce Bone-In Hearth-Roasted Short Rib served with pillowy bread, lettuce cups, yogurt sauce, marinated tomatoes, and all kinds of fun and delectable accompaniments. It's the perfect dish to share with a group while drinking in Etta's well-appointed indoor-outdoor space (and while drinking superb cocktails).
How to book: Reservations are available via SevenRooms.
Ordering family-style at this wood-fired Italian restaurant is a must. Situated in a boutique hotel called The Shay, this beloved Chicago transplant specializes in crave-worthy shareables—from mouth-watering starters and salads to from-scratch pastas and pizzas, all of which highlight California-fresh produce and ingredients. But the marvelous wood-fired picnics are where you'll need the most help—whether you order the 40-ounce Bone-in Short Rib or Whole-Grilled Lobster stuffed with shrimp and king crab, both of which are served with a tower of soft hearth bread, lettuce cups, cucumbers, and an array of delicious sauces and accompaniments to help you build your own dinner. While you're there, check out Etta's sister restaurant/bar Celestina on the hotel's rooftop—where you can enjoy Elotes, Coconut Shrimp, and Short Rib Tacos, along with poolside views.
Tuesday
5:00 PM - 10:00 PM
Wednesday
5:00 PM - 10:00 PM
Thursday
5:00 PM - 10:00 PM
Saturday
11:00 AM - 2:00 PM
Saturday
5:00 PM - 10:00 PM