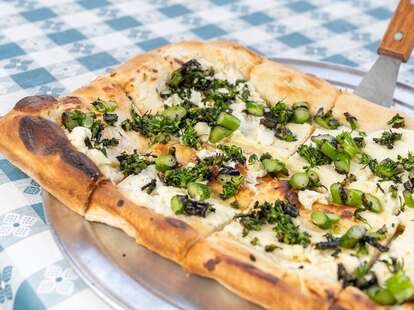 When chef Lance Fegen—who also backs Liberty Kitchen—brought this immaculate ode to classic Italian-American eats to the Heights, we were immediately obsessed. This spot has a little of everything, not to mention, a hearty brunch menu that'll have you counting the days until their Steak and Poached Eggs return. Other highlights include omelets brimming with cheese and bacon, buttermilk pancakes with grilled bacon, berries, and warm maple syrup, and burgers complimented with toppings like fried eggs, hash browns, gravy, and you guessed it—more bacon. Even better, diners can down all these treats alongside half-off Mimosas.

At his classic Italian-American haunt, veteran chef Lance Fegen shows off his Southern roots with Sicilian style pies… ones that are gorgeously scorched and bubbly on the outside, and pillowy as hell on the inside. Go for the Purple Rain, a fried eggplant- and fresh ricotta-topped number finished with house gravy and Sicilian olive oil, and add on some cheesy stuffed pepperoni bread because you deserve it.
How to book: Order take-out via Toast.