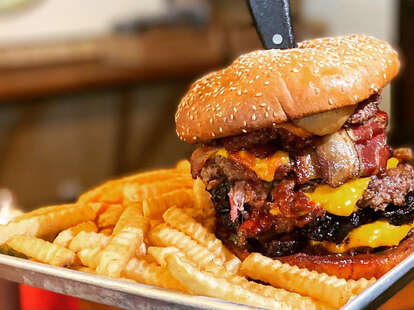 Photo courtesy of Fox Smokehouse BBQ
Photo courtesy of Fox Smokehouse BBQ
When dining on the outskirts of Las Vegas, you won't find any barbecue better than Fox Smokehouse in Boulder City. Look for it in a quiet strip mall on the main drag near the historic downtown area. The restaurant takes pride in smoking quality meats over hickory, preferring to let the natural flavors and dry rub do the talking over heavy sauces. Owners Dan and Kelly Fox put their skills to the test on the competition circuit over the years, where they're known as BBQ Junkie. You can't go wrong with the ribs, brisket, pulled pork, and burnt ends, but make sure to try the Smokehouse Burger, made with a nine-ounce blend of brisket and certified Angus beef. Come by Sunday mornings for the Tri-Tip Eggs Benedict and other items on the breakfast menu. The owners recently opened a new concept, Fox Family Bakery, for scratch-made bread, pies, cookies, and other baked items.
Fox Smokehouse encourages guests to try its meats without sauce, believing if you have to cover up the natural flavor, something's wrong. That mentality has helped the family-owned business earn a loyal following for brisket, burnt ends, and pulled pork—smoked over hickory with little more than a tasty dry rub. The Smokehouse Burger is a local legend: a heaping nine-ounce beef and brisket blend, topped with lettuce, tomato, onion, and BBQ mayo. The same patty is used in a modified chicken fried steak on the restaurant's newly introduced Sunday breakfast menu. The tri-tip eggs benedict isn't too shabby either. Fox Smokehouse is easy to spot on the main drag of Boulder City, just outside the historic district and a short drive from the Hoover Dam.
How to book: Save time by ordering online.