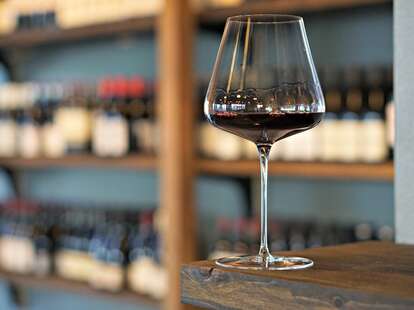 Photo by Rob Kachelriess for Thrillist
Garagiste Wine Room | Merchant
The Best Bars in Las Vegas Right Now
Great wine shouldn't have to be expensive. That's the idea behind Garagiste, a neighborhood wine bar in the Arts District by a pair of sommeliers with a long history on the Strip. The already extensive list is growing by the day, featuring a variety of styles, countries, regions, and prices. Garagiste makes a point to champion the natural or "low intervention" wine movement and small producers that aren't easy to track down. It's an industrial, modern space of brick and glass without a single television in sight—although the record player near the bar is a nice touch. (Ask to pick out an album.) There isn't a kitchen, but charcuterie plates are available, and you can always bring in outside food, especially from Esther's Kitchen across the street. Bottles are available to go (with a 50% off retail discount) but if you plan to hang out for a while, there are more than 20 wines by the glass to keep things interesting.

Where to Shop Small in Vegas' Arts District
If the person(s) you have to shop for is just so incredibly difficult and/or you just don't know them that well and/or you're short on time and/or the mental energy required for shopping and/or you are observing proper holiday party etiquette and bringing a host gift, the answer is wine. Pay a visit to the fine folks at Garagiste, a wine bar and retailer that specializes in the kind of juice you can't just go grab at Target or Smith's. (Or even Lee's Liquor or Total Wine, tbh.) Their inventory is stuffed with interesting wines from lesser-known, smaller producers from all over the world, and they roll deep with low-intervention labels. But you don't have to be super into wine to find something fun. The staff here is incredibly approachable and accommodating; let them help you find something special for a gift or for yourself (maybe have a glass or two with some cheese and charcuterie while you're there). The best part: every bottle on their list is for sale to-go at half off the list price.