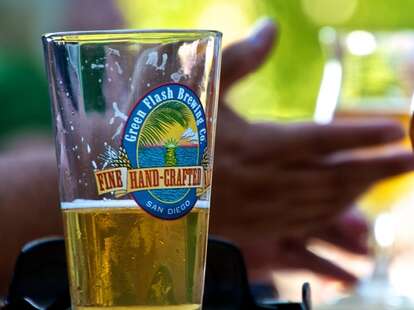 Green Flash Brewing Company
Because the Red Flash is just a dude who sucks to play tag against, grab tickets for <em>Green</em> Flash's 9th anniversary festival. Why, you ask? Maybe because there's a food truck "caravan", other breweries slinging their wares, TBD casks, and a load of rare beers like the 9th-ann TRIPLE IPA, Sugar Smack Belgian Dubbel, Little Freak, and Super Freak, which is a very special beer. The kind you don't take home to mother. And it'll never let your spirits down...once you get it off the street (ow, girl!).
Wednesday
3:00 PM - 9:00 PM
Thursday
3:00 PM - 10:00 PM
Friday
12:00 PM - 10:00 PM
Saturday
12:00 PM - 9:00 PM
When the craft beer explosion of the mid-2000s happened, Green Flash was at the forefront of the movement, led by San Diego brewing legend (and former brewmaster) Chuck Silva, who brewed a handful of the hop-heavy IPAs. The beauty of Green Flash's IPAs, though, was how they balanced their intense hop notes, and perhaps no beer better embodied that than the legendary West Coast IPA, with its tropical grapefruit and floral body. That innovative spirit lives on with original beers like Green Flash's Hop Head Red and Soul Style IPA.
Wednesday
3:00 PM - 9:00 PM
Thursday
3:00 PM - 10:00 PM
Friday
12:00 PM - 10:00 PM
Saturday
12:00 PM - 9:00 PM