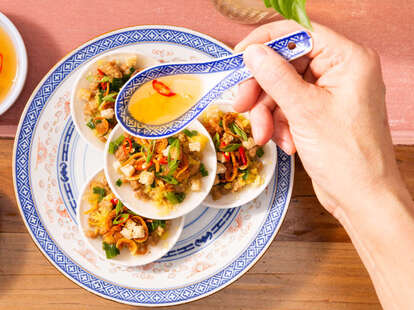 Hai Hai

| Katie Holm/Thrillist
Hai Hai

| Katie Holm/Thrillist
Tuesday
3:00 PM - 12:00 AM
Wednesday
3:00 PM - 12:00 AM
Thursday
3:00 PM - 12:00 AM
Saturday
3:00 PM - 12:00 AM
The gist: The second restaurant from chef Christina Nguyen of Hola Arepa fame features authentic Southeast Asian street food inside a former strip club.
The food: You'll find lots of big flavors and unusual dishes—chicken banana blossom salad, Balinese cauliflower, sticky rice with mock duck, and Vietnamese crepes are all must-haves. Also, the boozy tropical slushies and extensive cocktail menu make it feel like you're on vacation without ever leaving Minnesota.
The cost: Entrees range from $11 - $17.
How to order: Order on ChowNow for curbside pickup, dine indoors, or on the seriously gorgeous patio.
Tuesday
3:00 PM - 12:00 AM
Wednesday
3:00 PM - 12:00 AM
Thursday
3:00 PM - 12:00 AM
Saturday
3:00 PM - 12:00 AM