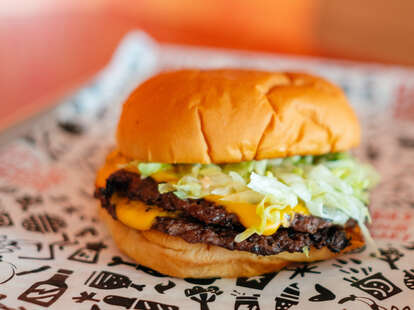 Tuesday
11:00 AM - 9:00 PM
Wednesday
11:00 AM - 9:00 PM
Thursday
11:00 AM - 9:00 PM
Saturday
11:00 AM - 2:00 AM
Brian Howard's Half Bird is all about quality chicken–either rotisserie-roasted or deep-fried–but is now broadening its selection with the recent introduction of a new smashburger. It's made with Creekstone Farms beef with a five-to-one ratio of brisket to chuck in two 3.5-ounce patties. They blend together in one delicious bite with American cheese, shredded lettuce, bread-and-butter pickles, and a special sauce with a Martin's potato bun. The burger comes by itself for $11 or with a side of smashed rotisserie potatoes and a choice of drink for $15.
How to order: Half Bird has a cashless system with the option of entering an order on a digital tablet.
Brian Howard already has a bucket-list-worthy restaurant with Sparrow + Wolf, but the chef is now tailoring his eclectic touches for the masses with Half Bird, a more casual restaurant where pasture-raised, cage-free chickens are the stars of the show. While there's a spicy Hot Chicken sandwich and an awesome take on chicken nuggets (or "nugs") on the menu, the chef is especially proud of the rotisserie chicken, a healthier option brined in lemon, garlic, thyme, and sea salt. The menu is rounded out by fun stuff like mac 'n cheese with furikake and Spam chunks, champagne splits in red solo cups, and an after-dark walk-up window. Stop by after 11 pm on Fridays and Saturdays when a ramen special is available, with rotisserie chicken bones simmered in a miso broth and spicy bacon fat. Howard is aiming to expand Half Bird with multiple locations, so check it out now and say you were there first. Don't forget to order the Cockfight Pilsner, made in collaboration with HUDL Brewing.
How to order: Just walk in or order in advance for pickup or delivery.
Tuesday
11:00 AM - 9:00 PM
Wednesday
11:00 AM - 9:00 PM
Thursday
11:00 AM - 9:00 PM
Saturday
11:00 AM - 2:00 AM