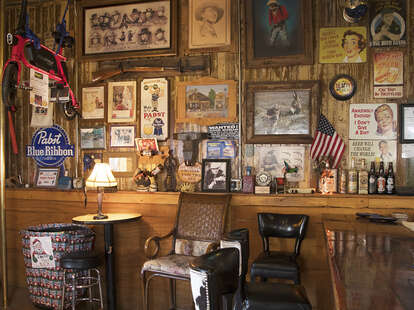 Photo courtesy of Happy Burro
Hanging out at the Happy Burro is like taking a trip back in time to an Old West cowboy saloon. The rickety wood structure is comfortably worn-in and is a great pit stop before exploring nearby attractions like the Death Valley National Park and Rhyolite Ghost Town. Practically ever inch of wall space is covered by some kind of decoration, whether it's vintage beer ads, wanted posters, or photos that celebrate Beatty's legacy as a mining hub more than a century ago. You're really here for two things: ice cold beer (no fancy craft brew please) and hearty award-winning chili that's based on a family recipe. Both are best enjoyed on an outdoor patio with a boardwalk that almost feels like a side street between two buildings.
How to book: Stop on by or take an order to go from a walk-up window.