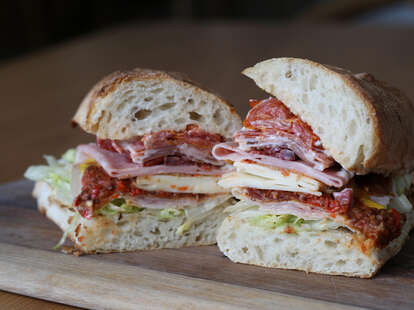 Photo by Carl Larsen, courtesy of Heroic Italian
Photo by Carl Larsen, courtesy of Heroic Italian
Heroic Deli & Wine Bar in Santa Monica offers a unique dining experience featuring traditional Italian dishes and carefully selected high-quality wines from California and Italy. The name "Heroic" comes from both the signature "Hero" sandwiches served on the deli side, as well as the "Heroic" amb...
Tuesday
11:00 AM - 8:00 PM
Wednesday
11:00 AM - 8:00 PM
Thursday
11:00 AM - 10:00 PM
Friday
11:00 AM - 10:00 PM
Saturday
11:00 AM - 10:00 PM
Sunday
11:00 AM - 10:00 PM
This space along Santa Monica Blvd has seen restaurants come and go over the years, but this outstanding project from Jeffrey Merrihue is definitely here to stay—and it's even expanded to Beverly Hills and San Francisco. The beloved neighborhood spot slings the only sandwiches on the Westside that can—dare we say it?—rival those of nearby Bay Cities. But while the latter uses denser, chewier bread and domestic cold cuts, Heroic layers its freshly toasted ciabatta (a revelation of airy dough and crunchy, crackly crust) with 100% imported premium cold cuts from Italy (hence its more elevated price points). Without a doubt, the OMG is the star of the show—a well-constructed symphony of prosciutto, salami, capocollo, mortadella, porchetta, smoked mozzarella, artichokes, house-made giardinnaire, house-roasted tomatoes, olives, mustard, mayo, and Italian black summer truffles. While you'd be happy ordering the OMG every time, don't sleep on the rest of Heroic's quality sandwiches and robust Italian dishes, like antipasto boards, hearty pastas, and pizzas—all of which taste best washed down with one of their excellent Californian or Italian wines.
How to book: Make reservations online or order pickup via Toast.
Tuesday
11:00 AM - 8:00 PM
Wednesday
11:00 AM - 8:00 PM
Thursday
11:00 AM - 10:00 PM
Friday
11:00 AM - 10:00 PM
Saturday
11:00 AM - 10:00 PM
Sunday
11:00 AM - 10:00 PM