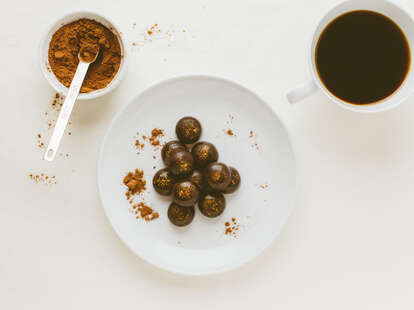 Photo courtesy of FoliePop
Tuesday
10:00 AM - 9:00 PM
Wednesday
10:00 AM - 9:00 PM
Thursday
10:00 AM - 9:00 PM
Saturday
10:00 AM - 9:00 PM
The Bûche de Noël—AKA yule log—is a festive French Christmas cake decorated to look like a tree branch. And while you may not be able to slice into one under the Eiffel Tower this year (thanks a lot, Omicron), FoliePop is dishing up two twists on the traditional dessert to ensure a très bon noël. There's the standard Chocolate Yule Log, a mix of delicious chocolate-passion fruit mousse and a passion fruit interior layered with a crunchy chocolate praline, as well as a Vanilla Yule Log, which contains a layer of crunchy caramelized apple nestled in a vanilla bavarois mousse (made from real vanilla beans, to boot), on top of a soft vanilla biscuit.
Cost: Logs run $70 each
How to book: Order pick-up online.
Tuesday
10:00 AM - 9:00 PM
Wednesday
10:00 AM - 9:00 PM
Thursday
10:00 AM - 9:00 PM
Saturday
10:00 AM - 9:00 PM