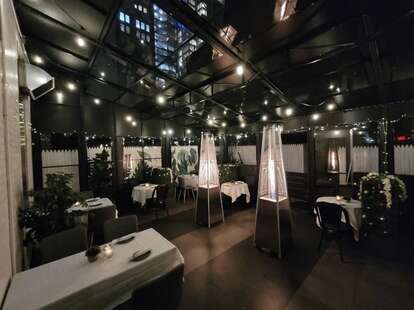 Tuesday
5:30 PM - 12:00 AM
Wednesday
5:30 PM - 12:00 AM
Thursday
5:30 PM - 2:00 AM
Saturday
5:30 PM - 2:00 AM
The dish: Pumpkin soup
Modern Asian restaurant Hortus NYC recently announced a new executive chef, Youjin Jung (Del Posto, Osteria Mozza, DB Bistro & Oyster Bar, Boulud Sud) who has launched a new fall menu, including a creamy pumpkin soup made from Japanese pumpkin and butternut squash that's topped with a cilantro espuma and served with grilled bread alongside. Hortus, which comes from the Latin word for garden, is true to its name and features a hidden second-floor garden oasis, complete with propane heaters and umbrellas.
How to order: Reservations are available on Resy for indoor and outdoor dining. Order takeout and delivery via Caviar, ChowNow, GrubHub, UberEats.
Tuesday
5:30 PM - 12:00 AM
Wednesday
5:30 PM - 12:00 AM
Thursday
5:30 PM - 2:00 AM
Saturday
5:30 PM - 2:00 AM