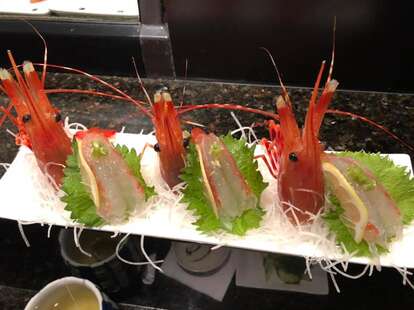 Photo by Carol Poon, courtesy of Ikiru Sushi
This tiny shop tucked into the long corridors of Liberty Station's The Quarter consistently turns out some of the finest, freshest nigiri in the city, as well as colorful, inventive rolls, which come fresh, seared, baked, or deep fried. We love the Orange Crush roll, with spicy scallops and cucumber inside, salmon, ponzu, and garnishes of scallions and sriracha on the outside, or the Panko Special Deep Fried Roll, stuffed with tuna, shrimp tempura, masago, gobo, and avocado inside, and lots of crunchy panko and a drizzle of eel sauce on top. Before you order, though, be sure to check out the chalkboard for specials, which features special fresh catch delicacies that aren't on the regular menu. The restaurant itself is small, but there's plenty of outdoor tables on the promenade to enjoy takeout.
How to book: Seating is on a first-come basis. Call 619-221-1228 for takeout.